Our partnership was formed in 2009 by George Pace, Chris Jefford and Chris Moore as we had formed a close working relationship in our previous office.
We share a commitment to providing creative, innovative architectural and urban design solutions founded on the conviction that well designed environments can make a positive contribution to the complex social and environmental aspects of modern life. We view each project as an opportunity to exceed the needs and expectations of our clients and provide inspiring environments for building users. 
Since foundation, the practice has developed a portfolio of projects primarily throughout the residential, education and commercial sectors. We have worked with many clients in each of these fields on projects of varying size from £50,000 to £20 million. 
Our clients benefit from our broad experience of construction, technical proficiency, and we have demonstrable skill working with sensitive Listed and historic buildings. Most of our work is generated through repeat business, and we consider the reputation of our partnership as its greatest asset.
We have a history of positive design team management and believe that a clear understanding of design team responsibilities, including those of the Client, is crucial to the success of any project.  
The partnership has extensive experience of most contract forms and team roles.  We have acted at various times for both client or contractor in Design & Build contracts and recognise the benefits that this procurement can offer particular projects.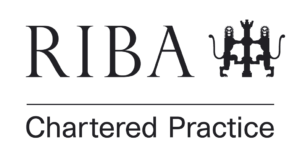 We are an RIBA Chartered Practice and have been since our inception.
RIBA Chartered Practice status requires us to adhere to a further code of conduct governing our quality assurance, training and staff.
We believe that RIBA Chartered Practice status offers our clients assurance that we operate a professional practice and offer a quality service. RIBA Chartered Practice Quality Assurance systems are ISO 9001 compliant.

All partners, associates and architects in our practice are ARB registered. Our RIBA chartered accreditation requires us to maintain a high ratio of ARB registered staff to ensure you receive a quality service.
BIM
Our software is fully BIM capable. Over the past years we have been changing our work processes to embrace this change in construction information production. We are increasingly able to collaborate across consultant teams using common production standards. We are also sharing more data rich 2D drawing and 3D model information across shared data environments such as Viewpoint for Projects. This working process is defined by BS 1192 or ISO 19650.
3D Visualisation
Our CAD software and expertise means we remain capable of producing high quality 3D visualisations of projects. We can produce high resolution still images, fly-through videos and have even recently produced real-time virtual reality mock-ups to support some of our interior design work.
Passivhaus
We can both advise clients on the design of these high performance energy efficient buildings and can advise contractors on standard compliant detailed design and construction. Our expertise around this standard has also given us a good understanding of domestic renewable energy provision and the risk of overheating in modern homes.
Thermal Modelling
The practice employs specialist software PSI-Therm to analyse the thermal performance of our construction detailing where necessary. We are able to provide analysis and reporting of precise U-values and Psi-values at junctions of proposed construction for use in energy modelling software. Our calculations are compliant with BR 443 & BR 497.